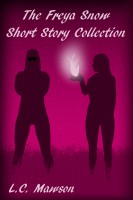 Date completed: 12/26/2015
Rating: 9/10
I'm not much of a fan of short stories, but this reads more like a novel than short stories. Meant to bridge the gap between the first and second parts in the series, I enjoyed this more than a stand-alone collection of short stories because I knew the background from Hunt's first novel and the main characters were the same in each short story.
Type of book aside, this collection was well written and served the purpose of furthering the story of Freya Snow. The storyline sees Freya through three holidays and one additional short story. Of course, something remarkable happens on each holiday and we explore more of her behind the scene's life while still maintaining the theme of improving her magic and fighting villians, and there is plenty of action in this collection.
Hunt's language flows off the page and is very easy to read. I love the little details: "The next thing Freya knew, she had been kicked forward and onto the ground…. Freya jumped to her feet in one, smooth motion. She thanked the five minutes of ballet lessons when she was six for teaching her that trick."As after the first book, I look forward to reading more!
In case you weren't around for my review of Hunt's first part in the Freya Snow series, you can read it now. That will also give you some more background info on the author.
This short story collection is free on Smashwords. Check it out and then go read her series; the next book is out in February.