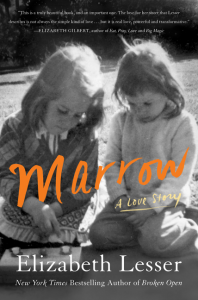 Date Completed:9/26/2016
Much like the moral of the story itself, I felt both drawn in and pushed away by Lesser's memoir. This book is an incredibly spiritual journey, and Lesser bares her soul to the reader in a way that I can truly appreciate.
Oddly enough, Lesser talked about her family background in Christian Science, and I have family background in CS, too! So that bit was exciting for me, even if we had completely different experiences of it.
While I don't necessarily agree with all of her revelations and ways of thinking, I enjoyed reading Marrow with all of its deepness. I don't often think very spiritually, but I certainly appreciate hearing from those who do. Lesser's constant optimism was also refreshing. She explains her mindset of hope often throughout the story, as it is a key point in her experience with her sister. However, while this aspect of the story often appealed to me, it also rejected me at times because I am not so optimistic. Even if I believe in the power of mindset, I still struggled with how far she took it. This is not to say anything was wrong with the book. In fact, quite the opposite! Lesser's opinions sparked healthy internal debate within myself as well as prompting me to ask new questions of friends that I might not have asked before.
Also, the fact that the themes of love were not focused on romantic partnership so much as they were on family love and friendship was a major turn on for me. I'm over the whole romantic trope thing (at least most of the time)! So I was glad this book branched out.
I'm always excited to find memoirs that are a breeze to read and offer new insight into the way people think and work. I definitely recommend giving this book a try.
ELIZABETH LESSER is the author of The Seeker's Guide and the New York Times bestseller Broken Open. She is the cofounder of Omega Institute, recognized internationally for its workshops and conferences that focus on holistic health, psychology, spirituality, creativity, and social change. Prior to her work at Omega, she was a midwife and childbirth educator. She lives in the Hudson Valley with her family.
Find out more about Elizabeth at her website, and connect with her on Facebook.
I received this book in exchange for an honest review from HarperCollins and TLC Book Tours.