Date Completed: 1/5/16
Rating: 9/10
A completely different retelling from any WWI/WWII novel I've read, Kline incorporates fact into her fiction in a thrilling new way. I thoroughly enjoyed the tale of Christina Olson and her family, a rural bunch who live in a farm house in Cushing, Maine. She lives a life of struggle and simplicity, living with her family for the majority of her life. Even as a grown woman, she maintains in the home she grew up in, living with her brother Al even after her parents' deaths and after her siblings move away. For much of her life she plays host to Andrew Wyeth, a painter who painted the famous "Christina's World:"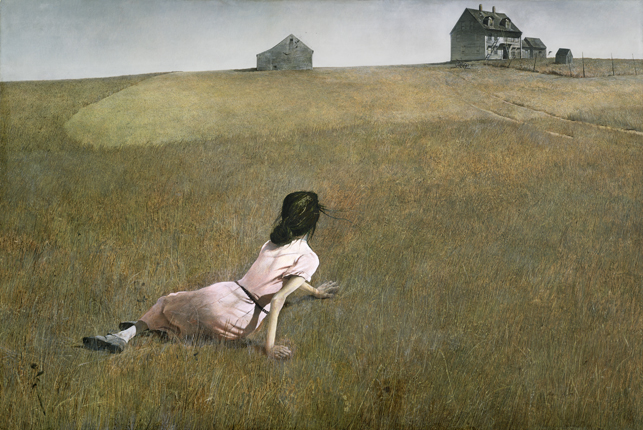 I actually had no idea this painting existed, even though I vaguely recalled the name Andrew Wyeth, so I appreciated the connection between history, art, and fiction.
I found that Christina's story was moving and heart-wrenching. Kline did an excellent job of keeping readers privy to the struggles of rural life during WWII, particularly what rural life for Christina, living with her physical disabilities, looks like. Yet, Kline did not allow me to wallow in pity for these characters, instead she revealed their strengths and called attention to the choices these characters made.
"I loved your grandfather more than all the shells in the Shell Room,"she says. "More than all the blades of grass in the field."
It's incredibly important to hear all sides of the story, and I loved learning about WWII's impact in a different way than I did in any of my history classes. Kline's writing is so smooth that I sped through this novel, despite there being (unsurprisingly) very little action scenes. Kline made each moment feel simultaneously important and fleeting, a skill that makes her writing feel so believable and relatable. I often found myself forgetting that this was in fact fiction and not the story of a family. It read like an extremely fluid memoir, and I'm terribly excited for its publication.
Christina Baker Kline is the bestselling author of Orphan Train. Kline was born in England and has also written two collections of essays. She is a graduate of Yale, Cambridge, and the University of Virginia. You can find out more about her on her website.