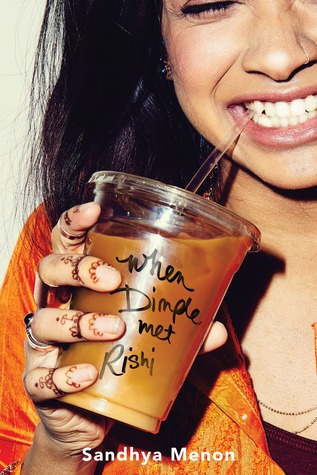 Date Completed: 2/10/2017
Rating:10/10
This book is pretty near perfect. When Dimple met Rishi is an adorable telling of a modern arranged marriage, and it touches on all the questions, pros, and cons that I can think of when I hear the term "arranged marriage." Dimple is 18, attending a summer program for app design where she expects to make some new friends and head out on her own for once in her life. Rishi wants an arranged marriage, and he's all in on wooing her at a summer camp. The only problem is, when Rishi meets Dimple, she has no idea their parents have been working on an arranged marriage that Rishi's in on.
This is at times both a light-hearted comedy and a book that sinks down to the true nature of love. For me, their romance felt real. Full of real doubts that oftentimes have little grounding in reality, but feel like big insurmountable decisions. Is it better to choose your career or choose love? Can't you have both? Can someone else's opinion guide you in a productive way, or should you listen only to what you feel is right for your career? These are the main topics that were covered and questions that were brought up for me, ones that I've been thinking about for years.
I love the feminist undertones present throughout this story as well. Dimple is very obviously a strong, yet stubborn, independent woman who knows what she wants and that's a career in web design/app design. She's not interested in a long term relationship, she wants to explore her options. She breaks away from Indian traditions. Rishi on the other hand is very traditional and willing to work in a career that's not his passion in order to find success. Their very meeting calls into question what success means, and helps them both reevaluate their values in life. It's honestly a very hopelessly romantic story!
I loved learning more about Indian and Indian-American culture. I do read books about people who are Indian or Indian-American from time to time, but they are not often quite as youthful and pop-culture as dear Dimple and Rishi are. I really liked getting that vibe from them, young and pop-culture, but also traditional Indian culture; their cultural heritage is rich and ebbed and flowed throughout the story of their youth.
Menon's writing style flows with ease, and she switches POV effectively. Readers are always made aware what Dimple and Rishi are thinking with regards to an event, and I appreciate that insight into their person-hood. My only complaint with the writing style was that there were several moments that felt a little rushed and contrived, moments where it seemed the author was creating these big morals in the story that the characters might not have believed or provided by themselves.
Sandhya Menon was born in Mumbai, India and is living in Colorado, US. She loves her cat and Bollywood movies. She seems like a great new voice in YA lit and I'm so excited to read more of her books! You can visit Sandhya Menon on her website for more information.