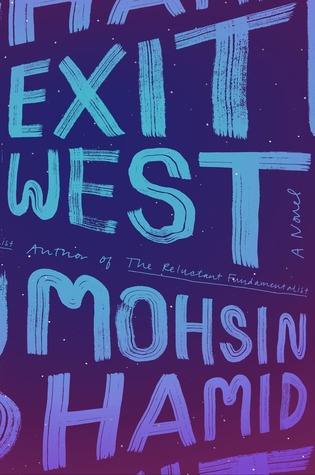 Rating: 8/10
I absolutely loved the beginning of this book. Hamid's writing is quirky and weird, and sometimes he overshares his characters lives, but what was most interesting is that he describes everything while naming very little. Hamid's protagonists are Nadia and Saeed, to young people who meet and begin their romance. However, shortly after their romance begins, a civil war breaks out where they are. Hamid takes readers through the journey of what it is like to fall into a new life as a refugee when war breaks out. Fortunately, after hiding for what seems like months, Nadia and Saeed are able to escape through a door that leads them like a portal to another country in another part of the world.
I found this story to be particularly compelling, at least in the beginning. I loved how Hamid described everything. Some characters were known only by their relation to Nadia and Saeed, or by their race, or by their title. For example, Saeed's father is called Saeed's father throughout the story. This practice is common on a small scale, such as small side characters that appear infrequently or don't contribute much to the plot in other books, but Hamid takes it to a whole new level of not naming anyone in the book other than Nadia and Saeed. His story is truly about just Nadia and Saeed.
This is true for their home country as well. Hamid names the places they travel to through the doors, but (unless I missed it somewhere) never names their home country, simply calling it the home country. This creates a universal feeling in such a a way that I felt I could relate to this refugee crisis and could imagine myself there in the story as Nadia. Hamid describes very little about the story that would make it feel specific, and in a way I think it's an attempt at making a timeless story that can connect to readers world wide and get everyone into a refugee story. Perhaps he's going for a little more empathy worldwide towards refugees.
As much as I loved the beginning, I felt the momentum of the story petered out towards the end, and perhaps that is more by design than I initially thought. If the action of the civil war breaking out and Nadia and Saeed travelling through the doors was in the beginning of the book, it makes sense that as their lives stabilized and they became more and more settled in their new world, as Hamid describes it, that Nadia and Saeed's lives would become more and more mundane, the primary action being normalized and the characters moving on from said disruption in their lives. However, as a reader it felt kind of disappointing to end without conclusion, just knowing that the action was long past.
The sci-fi elements mixed with a modern take on war and refugee crises world wide, as well as the romance and anonymity of the book make this a must read for the year. Try not to be too disappointed by the ending!