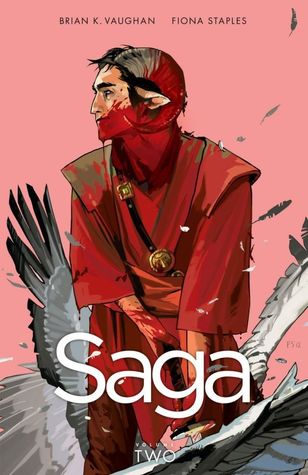 This second installment in the Saga series takes us back in time to when Marko and Alana met, and how their star-crossed romance blossomed. We also shuttle through space in a rocketship from a tree, and meet Hazel's grandparents, Marko's parents who are initially disgusted and surprised that he's chosen to marry outside of their race.
This is one of those stories you should really just experience for yourself. I'm not sure where all the weirdness comes from, or how this story that is science fiction/fantasy/romance/action/comic can feel so different from my experience of all of the genres, but the story seems destined for so much greater.
However, there was one trope that seemed overplayed in this instance. The Will is on a sex planet, blowing off his assignment, when he finds a young slave girl and decides to rescue her from that horrific fate. This turns out to weave through the majority of The Will's scenes, and I believe is thrown in just to show that the "bad guys" have complex feelings and desires, but for now felt unnecessary. And of course once they save the girl they find out she has special powers that are going to save the day, puh-lease. Just a tad too contrived, but I suppose that does fit the genre.
I can't believe I have to wait for the next one! Curse the person who checked out only the volume that I need next in the series.