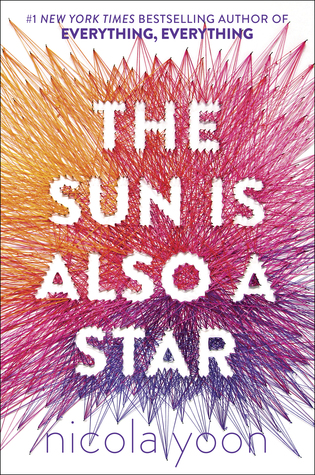 A lot can happen over the course of one day, and I'm in awe of the journey Yoon takes us on with this young adult novel. The Sun is Also a Star is the story of Natasha and Daniel, a story that is primarily covered in one day, with the exception of the last few pages. I love the depth of emotion and detail that Yoon went into when writing this story. I felt entranced by just one day's worth of dialogue, filled with the history of their entire lives in their thoughts and actions.
Natasha is a first generation immigrant from Jamaica, but unfortunately she doesn't have a green card and her family is about to be deported after overstaying their visas for 9 years combined with a big mistake on her dad's part. Daniel is a second generation immigrant from Korea, and his Korean American upbringing has him feeling like his life was picked out for him by his parents. He has an interview with Yale so he can start his path to becoming a doctor and leading a successful life, hopefully married to a Korean girl.
One day changes everything for them when they meet seemingly by chance, but the poet in Daniel denies the chance and promotes the idea of fate into their lives, until he learns her tragic present circumstances. Yoon got me inside the character's heads and gave me all their emotions. I can't imagine living either of their lives and having such a bittersweet day, but Yoon got me closer to understanding.
I love all the strong voices stepping forward to write incredibly touching and relatable stories of immigrants that I've had the opportunity to read lately. Some suggestions for beautifully told stories of immigrants: Girl in Translation, The Leavers, and How Dare the Sun Rise.