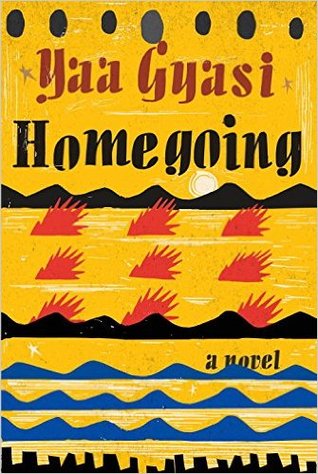 Homegoing is like comfort food for your brain. The history of slavery was a prominent theme, but Gyasi intertwined family dynamics and family history into her story so powerfully that this book was a feast for my emotions. Although the subject matter was heavy, reading it felt comforting.
As I often do with books, I jumped into Homegoing without knowing what I was getting myself into. I'd heard it was wonderful and almost won some prestigious awards, but I hate reading back covers and hadn't heard of Yaa Gyasi before. She has won my heart with this book.
Each chapter focuses on a different character, following the family tree of two half sisters whose lives never crossed paths. I'm so glad Gyasi included the family tree at the beginning because I would have been lost without it. Gyasi's writing is wonderful because each character's chapter doesn't seem like it would be enough to show you their true personality, but I found myself so wrapped up in each character that by the time their chapter came to an end, I was filled with compassion for them, sometimes even on the brink of tears. I loved the dynamic of bouncing back and forth between each side's lineage, really getting to know the family tree while all the while aware of how little each side knew of the other.
The end gave me almost the feel-good ending I was looking for. I predicted early on the outcome of the book, and in a way, Gyasi fulfilled my hopes, but she also left the ending a lot more open than I expected it to be. I found it fitting that the story carried on all the way from before slavery up until present day.