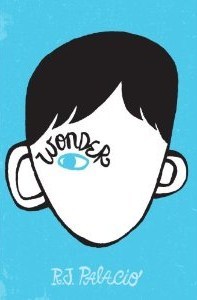 This beautiful story tells the tale of August Pullman, a boy with a craniofacial anomaly, meaning his features don't look like those of a typical face. He's had dozens of surgeries to correct things both internally and externally, and he's pushed through all of them to stability for the time being. Now August faces fifth grade at a public school for the first time, and he's not sure how it will go. He notices how much people stare, when they're startled, and how often they avoid him.
I really enjoyed this book, as I was able to fall into the storyline and felt that it flowed all the way to the end. In reality, this book sometimes moves from day to day or even hour to hour, and at other points it skips whole weeks or months, but this didn't feel distracting.
I did find it distracting that Palacio chose to change view points quite a bit. I often had trouble keeping track of which POV I was in at the moment, and the timeline is not linear with the POV's, rather sometimes they keep the story moving forward and sometimes Palacio went back in time to give a longer POV to a certain character. I felt I really only was interested in August and Via's perspective, as they certainly had the most plot to share. The other character's chapters were short and all focused on their relationship to August or the Pullman family, which was a bit bizarre, as if they had little life outside of their relationship to the Pullmans.
I've heard mixed reviews about whether this discusses people with disabilities in the correct light or not, and I'm sure that argument could be had most anytime people with disabilities are portrayed in fiction works. That being said, I want to remain sensitive to the fact that I don't know much about whether this book is offensive or not for some people, or even for most people. That being said, I feel it remains a good and beautiful story filled with a sweet message, and I enjoyed it. I also feel it opens the door for more open conversations to begin occurring, with some fictional situations to use as examples in discussion. So I appreciate that at the very least.