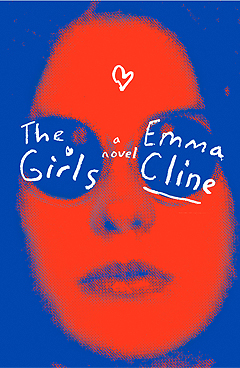 Rating: 4/5
Cline certainly accomplished what she set out to do with this novel. This chilling tale is so abject in nature that you're sure to experience a shiver running down your spine. These sensations will hit you hard if you've ever wondered what would happen if you weren't able to control your body anymore and your animal instincts took over on a quest for blood and revenge without thought to the morals and laws we hold steady. I know I've had moments where I wonder how differently situations might have gone if not for my morals and willingness to uphold the law.
Evie Boyd grew up with her mother and father, who are recently divorced. Her life is not terribly cushy, and her parents don't always express their love in the ways she needs, but she doesn't come from poverty. However, thanks to her parents' neglect, Evie finds herself enthralled with a woman Suzanne who agrees to take Evie with her back to where she lives. There, Evie meets Russell and the other members of his cult, has her first sexual encounters as a young girl of 14, and pines for Suzanne's affection. Going back home are little blips on the radar of her overwhelming new story with the cult. Meanwhile, Cline gives readers snapshots of Evie's life as an adult, and how she never quite recovered from her situation, although she has moved forward with her life. She meets some young people at the lake house she's borrowing from a friend, and takes a trip down memory lane to tell readers the tale of her youth, and to wonder if she was so different after all from those that she pined after.
Empathy is a very human emotion, and Cline evokes it in this tale of Evie, but in the most uncanny way. Evie is both someone you want to support and spare from her fate, but also someone who at times I found disgusting and misguided. At times I wanted to put down the novel and never think about this kind of a story again, but I found myself drawn back in with that need to finish a novel that I hope most of you reading have felt a time or two. Cline's ability to write in a way that readers feel empathy is so powerful in that it forces readers to think about what they might have done in a similar situation, bringing ourselves to the edge of violence and destruction that most people (In middle class America) avoid even thinking about.
Cline's imagery is beautiful. She really paints pictures of the setting as well as each girl, giving us things to love and hate about each character. And there's no getting around the sheer disgust factor that is so elemental to this novel. If you don't like reading about abject things, if hearing gross descriptions grosses you out too much, don't pick up this novel. It's not a pretty story.
However, if you don't mind edging closer to your dark side, this book may just be the next book you can't put down. More than that, Cline is bold in giving Evie a voice to her insecurities and recognizing her emotions. Part of that stems from Evie's older voice reflecting on her youth, as she reflected for countless years once the incident came to pass. I appreciate Cline's ability to display emotions for readers to taste, touch, smell, and feel. I believe Cline's ability to describe and give voice to Evie's emotions is truly what enabled me to feel so much empathy for a character which I might otherwise have hated.
Cline's writing reminded me of Emma Flint's little deaths in terms of shock and gross out factor being at maximum thanks to beautiful and intricate descriptions mixed with purely abject descriptions. However, I believe the storyline and the characters far surpassed my experience with Flint's book. I will probably not be recommending this book to anyone, but there's something to be said for the quality I found in this book.