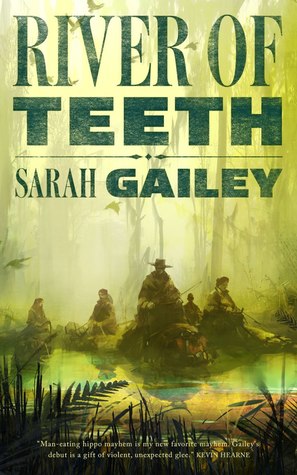 Rating: 4.5/5
Alternative history may be my new favorite genre after reading this book. Based on the concept of hippos being introduced to Louisiana as an alternative meat source in the late 1800's, this is the story of what might have been if the American government had gone ahead with that plan. Instead of being docile like cows, many of the hippos become feral and take over the bayou, snapping up whatever creatures cross their paths. Needless to say, I could not wait to read this book once I'd heard of it.
Gailey's novella is excellent. She writes a beautiful caper with several long-running jokes throughout the book, and weaves in magnificent characters. The imagery is beautiful, and Gailey often leads you to believe you know where she's headed with a moment of action only to flip the scene and leave you struggling to grasp just the opposite. The action was violent, brutal, and very descriptive. I was surprised by the sheer level of gore I experienced reading this book, I guess I don't read that many violent books filled with this number of weapons. That being said, it all felt very appropriate to the storyline and drew me into the plot even further. I would love to see this turned into a movie.
Gailey's writing is pretty inclusive, as the members of this particular character are a motley crew. We've got gay, straight, bi, gender queer, different races, and Gailey truly is a mastermind in the way she wove together each character's strengths. Gailey's writing gives each character vastly different ways of speaking, although each lends to the overall set-building of creating this late 1800's vibe. Very well done.
This novella was published this year along with the sequel novella Taste of Marrow, which I'm so excited to read next. Coming out in 2018 is American Hippo, the compilation of both novellas combined with an additional short story following the saga.