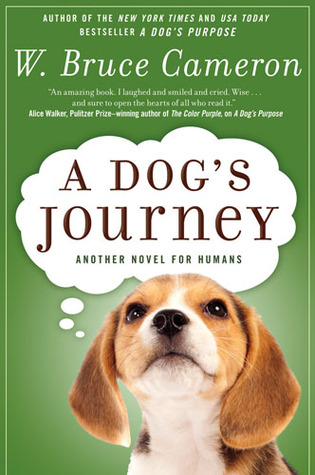 Rating: 3/5
This is a very basic book, exactly what you would expect. The dog(s) in this book are incredibly anthropomorphised, yet Cameron leaves in "I wag my tail at hearing the words 'good dog'" over and over and over. To the point of irritation. This book is meant to be told from a dog's perspective, yet all of the conversation on the humans' end is still clearly conveyed in the book. I suppose this happens in most novels to a lesser degree, as we are privy to thoughts in some characters' heads that other characters can't hear, but it feels kind of a like a train wreck in this story.
So why did I give it three stars? Despite all the little annoyances, I still got some good cries out with this book, as the dog dies over and over and over. I didn't realize this was the sequel to A Dog's Purpose, which I haven't read, and the book stood by itself fairly well. I didn't feel I was missing out on much of the plot.
Also Cameron addressed mental health in a somewhat sensitive way. Trigger warning for bulimia, but it is eventually addressed. I felt as though in the beginning it was somewhat normalized, but over time her friend tries to talk to her about it, and what's so interesting is how she continually pushes him away and attempts to normalize it herself until *SPOILER ALERT* she has physical repercussions. After that she seems to have a very pessimistic outlook on her behaviors, which is also later addressed by a counselor type figure after she's already become a psychologist/therapist person (sorrry, can't remember quite which title she has).