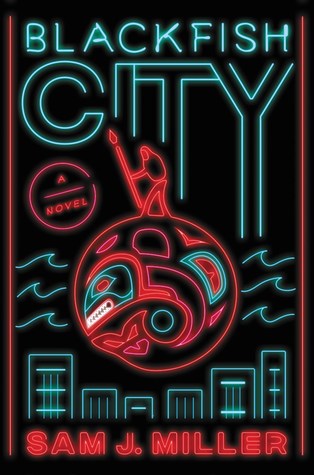 Rating: 3/5
Blackfish City reads almost like a grown-up version of The Golden Compass. This odd dystopian novel explores the political climate of an Arctic refugee town called Qanaaq told from five perspectives. Crime and corruption run rampant in this city, and a mysterious orcamancer rides in one day, turning the city on its head with speculation as to what her purpose may be.
I really wanted to fall in love with this book. With its diverse cast of characters, its epic premise, and the environmental and social impact of this story, I thought it would hit home for me. However, Miller builds the plot very slowly, piecing together bits of info through the seemingly disjointed lives of each narrator. In fact, it wasn't until the halway point of this story that I was able to pick up the pace of my own reading, as the plot really took off and came together to create some semblance of a narrative.
From then on, I raced through this book and felt like Miller's message was a rather important one. Political unrest is called into question, and the lines between the "good guys" and the "bad guys" are blurred even as new individuals are bonded. There are great action scenes and a bit of blood. Emotions were described in really fascinating ways, and I loved the insight into the human-animal connection.
My only other downfall to this book, besides the pacing, was the sections title City Without a Map, which read like dispatches from the web or a news source. Although I've heard that some people found City Without a Map to be an odd and appealing addition, I found them hard to get into and often felt they added to the already disjointed feeling I experienced throughout the first half of this book.
I received a copy of this book via Edelweiss in exchange for an honest review.