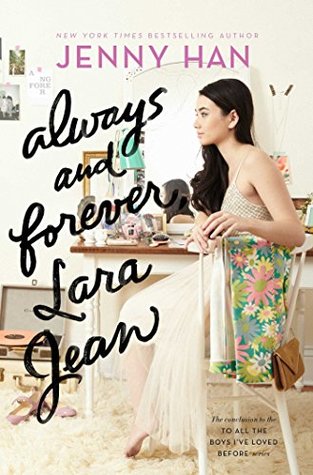 Rating: 3/5
Always and Forever, Lara Jean is the sweet and fluffy conclusion to Han's To All the Boys I've Loved Before series.
Senior year is going as good as could be for Lara Jean. She and her boyfriend Peter are stable, her father has found love with their next door neighbor, and she's even rekindling some old friendships. However, when Lara Jean finds out some unexpected news, her world is shaken. She's not sure what decisions to make, and can't help but feel like the decisions she wants to make are not the ones she should make.
The moral of this story is basically that Lara Jean has anxiety and that she should choose the things that make her feel happy and test her own boundaries. There, that's basically the whole story with a dozen scenes of her baking chocolate chip cookies thrown into the mix. But I'm not saying you shouldn't read it. The romance was delightful. Lara Jean starts growing up and making new adult decisions, and she is incredibly sweet. Her whole family, both blood and chosen, are really sweet, and that makes this book a light and easy read. I truly enjoyed the first and second book in the series, and in the end I find this a fitting conclusion.
At the same time, there's not a lot of action happening. Some drama, sure, but not a lot of action. Mostly this is a book about relationships and redefining your place in the world amidst a sea of change. Not the most exciting.