Happy Book Birthday to Wild Blue Wonder!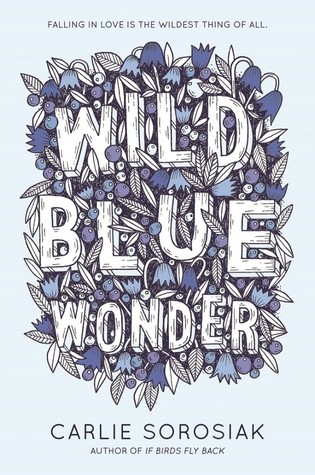 Rating: 5/5
This is one of my favorite stories of grief. I really loved these beautiful friendships, and Sorosiak did a wonderful job of writing each character's emotions. A lot of this book is painful, and left me feeling tense or longing just as the protagonist was.
Quinn Sawyer is someone I felt I had a lot in common with, even though we don't have much in common at all. Perhaps she and I could be best friends. She is a strong swimmer, one of the best in the nation for her butterfly, she is fascinated with marine biology, she grew up living with her family at a summer camp they all run together, and she's so awesome. The bulk of the story is her working through her grief from a mysterious tragedy that involved her siblings and one of their best friends.
The anticipation of the discovery of this terrible tragedy left me on my toes for quite a while. However, it felt enjoyable (in some kind of weird way) to uncover the truth so slowly over time, rather than being given the big picture at the beginning. I'm thinking the opposite of this book might be Everything I Never Told You by Celeste Ng, where the tragedy is frontloaded. Both books have a similarly older teen writing style, catering to a slightly older audience but focusing on the teens' experience. It took me a minute to adjust to the writing style, with the time shifts, and the magical components and weird descriptors, but after just a couple of chapters I was fully invested in reading this book straight through to the end as fast as I could.
I loved the juxtaposition of Quinn's desire to see the Winship sea monster "Wessie" and her reading of Moby Dick. It felt fitting and played into the magical realism component of the story well. Besides the mystical sea monster, the camp always has blueberries and animals hanging out in the middle of winter, an incredibly magical element when you remember that they are in fact in Maine. These additions don't necessarily have much to add to the plot on the surface, but in thinking about Quinn's perspective on the world, they have a lot to do with her emotions.
I loved all of the side characters! They were wonderful, delightful, and each had their own set of problems and miscommunications to work through. I love that despite this being such a short read, Sorosiak made plenty of time for the secondary characters to experience and work through some of their issues. Alexander was particularly delightful, and I'm glad that he was given so much time to shine. Hana was a gem, and I love their friendship to pieces.
Really, truly, I don't know how to say that you should read this book, other than to just go ahead and say you should read this book. I loved it.
I received a copy of this book via Edelweiss + in exchange for an honest review.