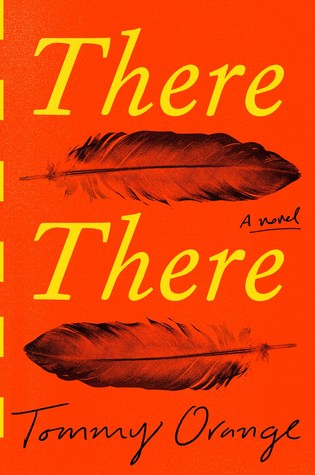 Rating: 5/5
Orange's book is prolific. Very in your face in the best way possible. Orange's novel is dark and depressing, but such an important read. There There is fast paced and covers a multi-generational family tied together through various threads and told in many points of view. These twelve characters are brought together at the Big Oakland Powwow, each journeying there for a different reason.
This sad story is a tale of discovery and loss. Each of these characters discovers something about themselves in the pages, which is incredible because each of their story's is so short. In fact, for the first section of the book I thought these characters were completely unconnected and that these were, in fact, short stories about what it means to be living as a modern Native American. But by the end of it, I could see where their stories were interwoven, and mourned the inevitable tragedy I could sense was coming.
"It's because she failed to do anything more than disappear herself. She's no nonsense with them because she believes life will do its best to get at you. Sneak up from behind and shatter you into tiny unrecognizable pieces. You have to be ready to pick everything up pragmatically, keep your head down and make it work."
This book danced to the edge of stereotypes, examined them through the eyes of the characters, and then tore them apart. This book clearly showed that there are so many different ways to reconcile being both white and Native American, and focused on how having both affected many of the characters differently. Orange brings up shame, guilt, pride, sadness, curiosity, and mystery, a slew of feelings that make this such a rich read and gave each character such depth and development.
"A bullet is a thing so fast it's hot and so hot it's mean and so straight it moves clean through a body, makes a hole, tears, burns, exits, goes on, hungry, or it remains, cools, lodges, poisons. When a bullet opens you up, blood pours like out of a mouth too full."
There's a lot to unpack in this book, and I think it would make a great book club pick. I definitely was glad I was able to get my hands on this book so soon after it was published – I can see myself rereading this in the future. Absolutely would recommend, but be warned of the violence within the pages!