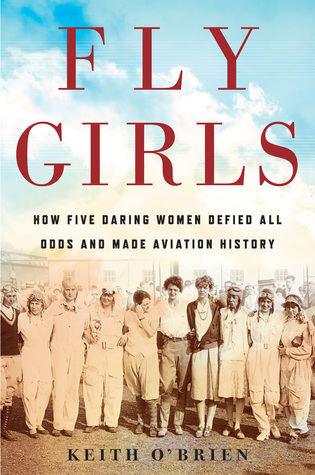 Rating: 3/5
This history novel mainly follows the story of five brave women and their journeys with flying in the early to mid-1900's. Included is Amelia Earhart's story, one of the most famous female pilots to date.
Surprisingly, I found their story more interesting than I'd anticipated. O'Brien's writing style lends itself well to this kind of storytelling, and he weaves elements of history together nicely to present this genuine story of friendship, love, and adventure. Flying in the early 1900's was not the easiest thing to do, and there are a lot of tales that end in flames or crash landings for both men and women of the time. I felt this was a very honest and open look at the accomplishments and tragedies.
There's a healthy dose of feminism in this book. All the female pilots bolstered each other up even as they were competition. They rallied together to determine what they would and wouldn't accept from race coordinators, to ensure that women weren't being undervalued in the field. O'Brien even gives readers insight into how these women leaned on each other in life outside of flying, as friends and support systems in their own day to day lives.
Despite enjoying the information, I did not feel attached to any of the characters. This book moved along quickly, but there weren't any specific plot points, rather just a snapshot of flying at the time. The conclusion was a little loosy goosy, and I'm not sure what the take away was meant to be. O'Brien stuck with the facts to deliver this book, and while at times the story seemed greater for that, there was also little character to the characters. I have to say that was what kept this book from being a better story.
That being said, I enjoyed this alternate viewpoint that gave a different view of what it meant for people to be alive during the Depression era and the roaring 20's. I was shocked to see how far flying has come in such a short amount of time, and impressed by the speed at which modern planes fly compared to the planes they speak of in this book.