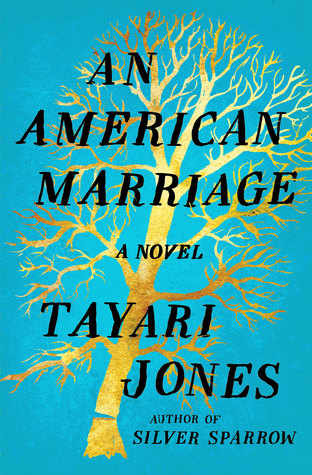 Rating: 4/5
I'm not sure I enjoyed reading this book, but the experience of reading this was really good. Jones spins the story of a marriage that seems doomed nearly from the start. Celestial and Roy met in college, but didn't fall in love until after graduation. They stick together and get married, but tragedy strikes and Roy is convicted of a crime and sentenced to twelve years in prison. How can the couple move forward from there? Is there a future for them?
Jones spins a fantastic tale for these two characters. Both Celestial and Roy seem real, in that they are flawed, needy, and loving individuals. Each have their own hopes and aspirations. Their story is one of tragedy, but in her own subtle way, Jones speaks volumes about the structure of American society. The prison industrial complex is no joke; neither is the racism that abounds throughout the country. This uncomfortable but realistic love story is an excellent view into the impact that politics have on our personal lives, and a reminder to those of us with the privilege never to have to think about going to prison for a crime we didn't commit  to not take a passive seat, but to fight for justice for everyone in our country.
One thing that kind of bothered me was the overall pacing of the story. Most of the time the story flowed easily, although sometimes Jones sped things up in a rush to the point where I could hardly keep track of everything that was happening. However, I believe this was done intentionally, to help readers connect to how the characters must be feeling through the traumatic parts of their lives, and then slowing down during the more mundane routine tasks.
This is not a happy read, but it does provide food for thought on what makes a relationship. Each of the characters have their own perspective on what is important in a relationship, and it is interesting to see how Celestial and Roy are buoyed or dissuaded by their parents, friends, and their belief in cultural norms around marriage and relationships. Celestial is constantly pushing back on cultural norms, while Roy often perpetuates those that he chooses when it suits him. They certainly have an interesting dynamic.
I would recommend this book for anyone looking for a contemporary read with many layers who doesn't mind continuing tragedy and uncomfortable scenes. Also Jones' stunning writing makes it all worthwhile.