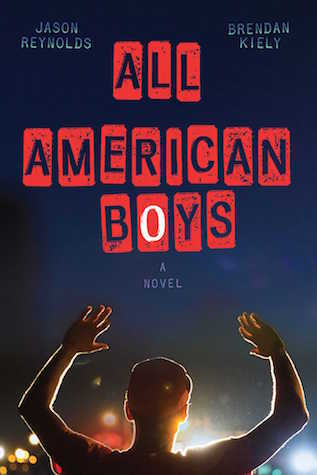 Rating: 5/5
Have you ever said the phrase, "I'm not racist, but…"? If so, this book is definitely for you. If you're a young adult trying to figure out police brutality, this book is for you. If you're a person who likes to read well written fiction with hard-hitting truths, this book is for you.
All American Boys is the dual story of Quinn and Rashad, two high school boys. Rashad is brutally beaten by a police officer one night, and Quinn is there to witness it all. Unfortunately, he knows both the officer and the victim. Rashad is hospitalized, and his world is changed forever. Rashad spends the remainder of the book coming to accept the new reality he's been forced into, and never quite accepting it fully. Quinn's world is also shaken, and he spends the rest of the book trying to figure out how he feels and where he needs to stand.
"If I didn't want the violence to remain, I had to do a hell of a lot more than just say the right things and not say the wrong things."
I've been a huge fan of Jason Reynolds since the first book of his I've read. I feel as though he has an immense ability to connect with young readers, writes about incredibly important subjects that are relevant for the youth in America, and provides emotional depth that can be lacking in middle grade and young adult literature sometimes. He gives his characters power and responsibility. I haven't read any book by Brendan Kiely, but I'm interested in his writing style.
Quinn's got a lot to figure out, as he discovers his heroes may not be who he thinks they are. A major theme for him is unpacking the word hero. Part of him discovering what it means to be a hero, was also discovering what it means to remain neutral in such a heated situation.
"Instead I thought about the guy who'd just said all those things to English. The guy who hadn't meant to sound hurtful. The guy who was just trying to walk down the middle and not disturb anybody, basically give some meaning to what I'd seen in the street outside Jerry's. And here's what I realized I was saying beneath it all: I didn't want my life to change from the way it was before I'd seen that. "
My one complaint looking back on this is that Rashad's voice seems almost lost in all this. It seems everyone else is making decisions about his life for him, and perhaps that is also commentary on what it means to be a young black boy in America. Paul took more power away from Rashad than one would initially anticipate. Not only was he beaten and arrested for a crime he did not commit, but Rashad also became part of a larger movement brought together by his community members without his consent. And at the same time, his pain and powerlessness provided an opportunity for others to speak up about police brutality.
"Sometimes when people get treated as less than human, the best way to help them feel better is to simply treat them as human. Not as victims. Just you as you. Rashad Butler, before all this. "
And of course I loved the commentary on friendships and social skills. Kids are smart, they just don't always have the tools to make a decision that will help them in the long run. Although they're not perfect, Rashad and Quinn have skills to take care of themselves and their friends when it seems to matter most, and I appreciate Kiely and Reynolds making space for that.
"No, man, the problem is assuming he's out to get you. He isn't. "
My only complaint is that the book is very moralistic, with not a lot of wiggle room for differing opinions. I agree with the opinions that are within the book, but I'm worried what the reading experience might be for someone who completely disagrees with 90% of the solutions. I might find out, as I really want to read this book with my students!