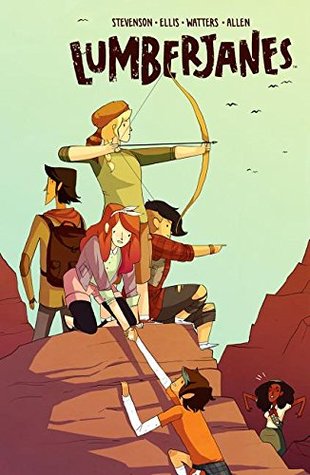 Rating: 4/5
This is the second volume in the series, and I thoroughly appreciated it. Stevenson furthered the plot while creating space for major character development. I love that Jen, their counselor is given more space to work with the girls effectively – their camp director seems like a super helpful and supportive boss, more so than I had originally anticipated. 
The sibling rivalry in this book is comedic and wonderful. This unexpected plot twist had me on my toes and thrilled with the simple concept and chaos it unleashes on their world. 
I can't decide who is my favorite character! April is so badass and small and cute, so of course I love her. Ripley is all over the place, literally bouncing around and falling into trouble whenever she can. Super awesome, and caring. Mal and Molly's friendship is so special to me, and I love how supportive they are particularly towards each other. And Jo is so sneaky with a cool sense of style. They are all so smart and brave! Can't wait to see what adventures are in store for them next!