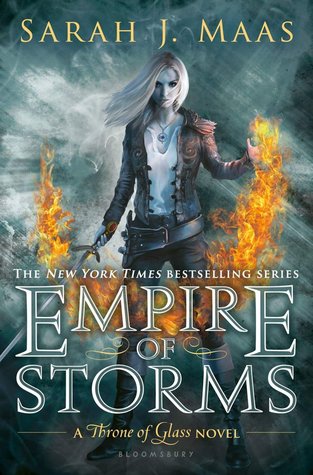 Rating: 5/5
This was by far my favorite in the series. Aelin is such a badass, and the entire cast of characters stole my heart one at a time and then broke it. There was a lot of heartache involved in reading this story, as it feels like one tragedy after another befalls our band of misfits and castaways.
Aelin continues on her quest of finding the Wyrdkeys and discovering a way to end the demons that have started a war on the continent. She's looking for answers from her ancestors, and she's calling in all the favors she can. I found myself surprised by the twists and turns she had coming for me, but not nearly as shocked as her companions.
Lysandra develops some budding affection for Aedion, which filled me with hope. If they can find a kind of romance after all they've been through, surely anyone can. Elide finds more kindness and compassion than she's expecting, and I was thoroughly grateful to have copious amounts of story surrounding her experience, both backstory and plenty about her current journey. She's now one of my favorite characters, I believe because she is so humble yet brave, despite all she's been through. She continues on where others might not, and she has a Fire heart to match that of Aelin's.
Aelin and Rowan fall deeper in love with one another, when they find time to amid the chaos that is swirling around them. There were some pretty steamy sex scenes this book, which were my least favorite element of the story, as there was a lot of "claiming" each other and Aelin saying that she was giving herself to him, yada, yada, yada. However, I do love the times when they look at each other and can read each other's thoughts based on facial expressions. Those moments have me smirking right along with them.
Learning more about Fenrys, Gavriel, Lorcan, and Rowan's history together, personalities, and relationship to Maeve was much needed. They have all been tied together for so long, and after centuries of servitude, they are finally finding other people they would rather serve. Unfortunately, they still have the blood oath to contend with, and while the ways they get around it are sneaky, there's also the impending sense that Maeve is merely allowing them to get away with it, for the time being.
All in all I found this book delightful and compelling. The character development is my favorite part, and their development was intricately interwoven with the political events that were afoot throughout the story. They are gearing up for war, and I was so ready for battle scene after battle scene, each more epic than the last. Each time I felt the dread that comes with thinking they might lose, might lose someone important or their whole scheme might fall apart. I won't say more than that, but the battles were absolutely worth the large chunks of pages devoted to each one. I'm anticipating more to come in the final installment, Kingdom of Ash.